Tracy Machnicki from BRIC and Be Digital Sure Start Programme Lead and Trainer
A key aim of Northumberland's 'Be Digital' Women and Broadband programme was to deliver return to work digital skills training to small groups of 10 women at 4 Sure Start Centres across Northumberland, supporting 40 women in total.
BRIC were commissioned to work in partnership with Sure Start centres and the Be Digital team in order to design and deliver the Be Digital Sure Start Programme, which would introduce mums to various digital developments including on-line job searches, social media, on-line safety, essential computing skills and confidence building sessions in preparation for interviews and returning to the workplace.  Sure Start staff were also encouraged to take part in the training in order to help support the women once the programme was completed.
Bellingham, Blyth, Alnwick and Bedlington Sure Start centres were chosen to deliver the training from as these all had crèche facilities and also wifi for the on-line training.  In order to enable the women to attend the training, funding was used to cover the cost of crèche facilities at each of the four Sure Start centres.
On completion of their training a celebration event was held where each of the women was given a certificate and a free basic tablet device to encourage them to put their new skills into practice and continue their learning journey at home with their children.  Layla Welsh of French Grey Tales in Morpeth, who has been a wonderful and inspirational Be Digital Ambassador, joined each of the close events to share her personal experience as a mum of building her own successful business. 

The Be Digital Sure Start Programme was a great success with fantastic feedback from all of the mums who took part.
"Since starting the course I feel more confident about working in groups and feel I have gained a lot of skills. I found the session about CV's the best and now feel I can write my own CV."

"Much more confident in using the Internet and knowing more about Internet safety and how to budget. I have really enjoyed the sessions, getting to know new people and gained a lot more confidence in my ability. I am confident in looking for employment and much more confident in writing a CV and knowing where to access help."
We met with a couple of people involved in the programme to find out more and ask them what they enjoyed most about taking part.
Tracy Machnicki, BRIC – Be Digital Sure Start Programme Lead and Trainer 
I'm the Operations Manager at BRIC (Blyth Resource and Initiative Centre), responsible for managing staff, projects and the education tutors.  I'm a qualified primary school teacher and have previously worked for Barnados and Adult Learning Services teaching, supporting and managing family learning activities. These roles enabled me to really see how important it is to get families involved in their children's learning.  Through my work on various county wide projects I've established great working relationships with a number of organisations, including Sure Start centres.  On a personal note, I'm a lone parent with three children – my own experience of bringing up my family enables me to put myself in my client's shoes and have compassion for some of the challenges they may be going through.
When BRIC were commissioned to deliver the Be Digital Sure Start Programme, I was able to bring all of my skills, experience and contacts to the programme.  I hadn't done direct delivery for a very long time but I've really enjoyed the opportunity to lead, design and deliver the training on this programme. The relationships I was able to build with the women on the programme was really rewarding – there was a real connection of shared experience between us all.  The flexibility of the programme has been a real plus – I was able to design a bespoke training programme based on what the women wanted to learn to help them build their confidence and skills to apply for work (or think about starting their own business!) and return to the workplace.  Alongside digital skills, CV writing and on-line job searching we delivered well-being sessions, budgeting sessions and confidence and assertiveness training.  The programme has completely turned some of these women's lives around – we didn't anticipate at the beginning of this course what the impact would be.  Having had such an impact on these women's lives is incredibly humbling and I feel very proud to have delivered this for the women.
I've worked with a great team of trainers, including Alec, who is also from BRIC.  Alec has been a fantastic tutor to work with and all of the women really valued the budgeting, excel, word and on-line money saving tip sessions he delivered to them.  The National Careers Service also worked with us on delivering CV writing and on-line job search sessions – they were fantastic to work with and these sessions were really beneficial for the women.
Working across four different Sure Start centres has also been really interesting.  The diversity of the needs across all four of the different centres was huge, making the flexibility of the Be Digital programme incredibly valuable. The Sure Start centres helped us sign women up onto the course by circulating flyers to the mums that used their centres.
Alec, BRIC – Trainer
During the sessions I delivered we talked about a whole range of topics, from changes to the benefit system, to on-line security (including virus checkers for smartphones!) to budgeting.  What I told the women had an immediate impact for them and their families – all of the women could see how practical the skills they were learning were, the monthly budget sheet was particularly popular.  In addition to delivering the training sessions we circulated templates and handouts to them via the Sure Start centres.  By working in small groups and tailoring the training we created a fun learning atmosphere based on trust and working together in an open, honest and practical way.   
As an experienced trainer, I really enjoyed how interactive the women were on the programme, they were enjoying it and absorbing everything we taught them.  They would come back the next week and tell us what they'd done and about the money they'd saved.  At the end of the programme women from all four centres said how much they enjoyed the programme and that they wanted to do more digital skills and confidence building training and many said they wanted to take an IT exam.
"I'm a lot more confident on the laptop now and feel confident that I can stay safe online. I now bank online and feel confident doing this. I now budget shop and I'm saving money on my weekly shopping bill. Would like to do the exam and next level. Fab course! Really enjoyed it."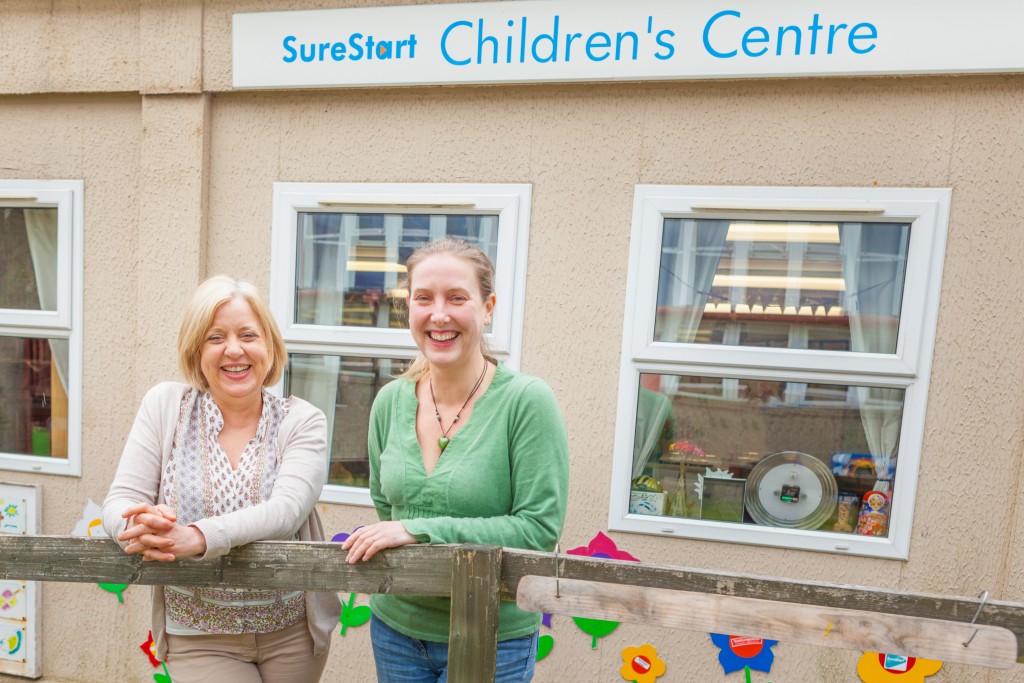 Joanne and Helen standing outside Bellingham Sure Start Centre
Helen – Bellingham Sure Start participant 
I signed up because I have a deep anxiety of computers or any technology really and I'm having to use them more at work.  I've got a very negative view and thought process when it comes to computers, they are a real point of stress for me.  I feel like everyone else uses computers these days and I am being left way behind.  I came to a point where I decided I had to do something about my fears.  I found out about the course when a parent shared a link about it on Facebook – while I don't like using computers my husband has set up a Facebook account for me and I use this to keep in touch with friends.  I followed the link on Facebook and thought, this is the course for me – it felt like it came at exactly the right time.  So I got in touch with the Sure Start centre at Bellingham school and signed up.  The course was already full so I was told I'd be put on the waiting list.  This was a great relief as, while I felt like I needed to do the course, I was very anxious about doing it.  Shortly after the course started a place became available and, when Joanne called me up to ask if I wanted to join I jumped at the chance – it really felt like it was meant to be.
I enjoyed that the course was delivered to a small, intimate group of mums because I find it difficult to talk, especially in big groups.  The group and the trainers were very friendly and I wasn't put on the spot at any time.  I didn't know any of the other mums in the group but everyone was really lovely.  The Sure Start centre staff and course tutors made everything run so smoothly and were very welcoming.   The tutors were really good at creating a friendly atmosphere while also keeping us focussed on the learning – each session was only two hours so, while we did have a little time to chat, the sessions were very well structured and worthwhile.  The tutors really helped me with my anxieties.  During one of the sessions we were asked to do something that many would think a simple task but I started to panic and felt myself welling up.  Alec, the tutor, couldn't have been nicer and he suggested some things I could do to help, such as using a mouse to do some things instead of the keyboard; he really put me at ease, I had been so embarrassed but he was very understanding.  Alec told me he'd worked with lots of people who are anxious about computers – it was really reassuring to know that I'm not the only one.
Alec and Tracy integrated wellbeing, confidence building and personal development sessions with the digital return to work skills training.  I wasn't sure how this would work as I couldn't see what well-being had to do with digital skills, but everything was about building our confidence and the sessions worked together brilliantly and the whole course was so much better than I was expecting it to be.
I want to do more computer skills training sessions to really help me overcome my anxieties and build my confidence and skills, including hopefully sitting an exam in order to get a formal computing qualification.  I'd like to learn more so that I can use these skills at work.  I'd also like to improve my computer skills so that I can potentially start to sell my watercolour paintings on-line.  
I was really inspired when Layla Welsh of French Grey Tales came to our last session to talk to us about how she started her own business.  Layla was very open and honest with us about what she and her family had been through and it made me think that I can overcome my anxieties and put my fears behind me.
Joanne Norman, Facilitator, Sure Start Children's Centre & course participant 
Being a rural children's centre we have trouble getting people to come out to us to deliver training as we're quite far out from the main towns, so having Tracy and Alec coming out to us to deliver the Be Digital Sure Start Programme has been great.  Having funding to cover creche costs really helped too.  The programme was a huge success and over 60% of the ladies want to go on and do further training.  
We had a few teething problems with the wifi connectivity to start off with but a booster was put into the centre and this was resolved, which means we now have wifi connectivity that enables us to deliver to groups of 10 online users at the same time.  
Initially we weren't sure how digital skills and well-being sessions would work but we trusted the trainers and it all worked really well – it makes sense now why on-line job searching and confidence building skills go hand in hand.   
The women who took part all worked brilliantly together and were really supportive, this is partly thanks to the trainers who put them at their ease and gave them a safe space to learn together and from one another.  
I took part in the programme too, which has been great as I've been able to support the women during and after the training programme if they've had any queries.  I've also been able to tell other Sure Start centres about the training and the really positive impact it has had for the women involved.  I was also able to bring my own personal experience to the group – years ago I suffered from ME and had panic attacks, so being able to identify with Helen and others with low confidence has helped as they've realised that they aren't alone and that, with time, they can overcome things.  It was such a friendly group that I felt I could share that with the women, the trainers created a really positive sharing and learning environment.
"I have enjoyed the course immensely. I particularly liked the relaxed, but still professional approach. I have benefitted from 1:1 computer training within the group and it has helped being amongst other women and excellent course facilitators. Great venue! We have covered so many things! Loved it!"

"The course should have been longer as I wanted to do a lot more.  Staff were amazing.  I learned how to do my C.V properly.  It helped me to put parental controls on my phone and tablet.  It helped me understand not to open some emails.  It gave me great confidence, I wouldn't have gone to look for work if I hadn't done the course.  I feel more positive to look for work.  I'd love to do it again".
~~~~~~~~~~~~~~~~~~~~~
Eds note – a very big thank you to Tracy, Alec, Helen and Joanne for sharing your experiences of the programme with us, and to everyone involved in the Be Digital Sure Start Programme.