Hi Jo, can you tell us about yourself and what inspired you to set up your business?
I am Jo, owner of Mellie Green Organic and mum to William and Annabel. I have always worked in marketing and strategy and I've always been very focused on my career but it wasn't until I went on maternity leave with Annabel that I realised how much of my children's lives I was missing by working full-time. Maternity leave was great for me to as I saw just what I was missing out on, and it helped me put things in perspective.
Mellie Green Organic started life as a maternity leave idea  – I think I partly blame sleep deprivation for going from a 2am idea to full-blown business plan!
The more I researched the idea the more excited I got about the prospect of running my own business. The journey so far has been a huge learning curve for me and I've grown so much as an entrepreneur during the process; from working with manufacturers and suppliers to building the website and learning how to run the accounts. I take huge pride in being able to stand back and see what I've achieved so far.
It wasn't until I really started reading up on where clothes come as part of the research into the supply chain that I realised just how the whole thing works. I'm worried that we really don't think about where our clothing comes from and therefore we don't ask questions or demand better from manufacturers. When you start digging deeper there are some terrifying statistics surrounding cotton production and it's really changed my thinking – it's this thinking that I put first with Mellie Green and the Organic Ethos is embedded in the business. With Organic Cotton the benefits are huge; no pesticides mean it's better for the cotton worker and the environment and because there are no toxic chemicals used in the manufacture of the clothing it's also better for little one's delicate skins and sensitive skins such as those prone to eczema.
What tips would you give other women who are thinking about setting up their own business?
Appreciate how much time it is going to take to start-up and run a business, and understand just how much you're going to have to put into your business before you get anything out. Time, money, dedication – are definitely things that you need in swathes. A start-up is 100% you alone and every success you get out of it is because you've ploughed everything you are and everything you have into it – you have to live, breathe and believe in what you're doing.
My other piece of advice would be to make sure you take time to step back and objectively assess where you are and what you need to do to move forward. It's only by stepping back and reviewing how you're doing that you can truly see where the failings and opportunities are. If you can do that with others it will really help you build a stronger business, I am extremely grateful to have an amazing panel of mums who help me look objectively at my business, and a group of 20 Women Entrepreneurs that I've met through SpringBoard who are perfect sounding boards. Don't underestimate how important it is to have like-minded people around you, being self-employed can sometimes be the loneliest job.
We love the philosophy of your business, providing quality organic and beautiful items for little ones – what are the benefits of the internet for your business?
Thank you! Without the internet I simply wouldn't have a business at this stage, I don't have a physical shop front as such so it enables me not only to be a retailer but also to really get to know my customers.
The internet gives me a huge reach across Europe and social media keeps me in conversation with my customers, being active across as many social media channels as possible brings huge marketing benefits to the business and I think it lets people get to know who they're buying from too.
The internet has also given me a platform for sharing the story behind the business and what we stand for and I can get involved in conversations and debates around organic cotton and fair-trade and join in the conversation on babies and parenting.
What are your future plans for Mellie Green?
I've got huge aspirations for taking Mellie Green much further than a reseller of organic products – I want to become a manufacturer of organic products and be able to offer a retail experience which brings the brand into the home. But that's for the future . . .
Organic is the ethical, and environmental choice and the end result is beautifully soft clothing that is fantastic quality and really made to last so it will always remain at the core of the business.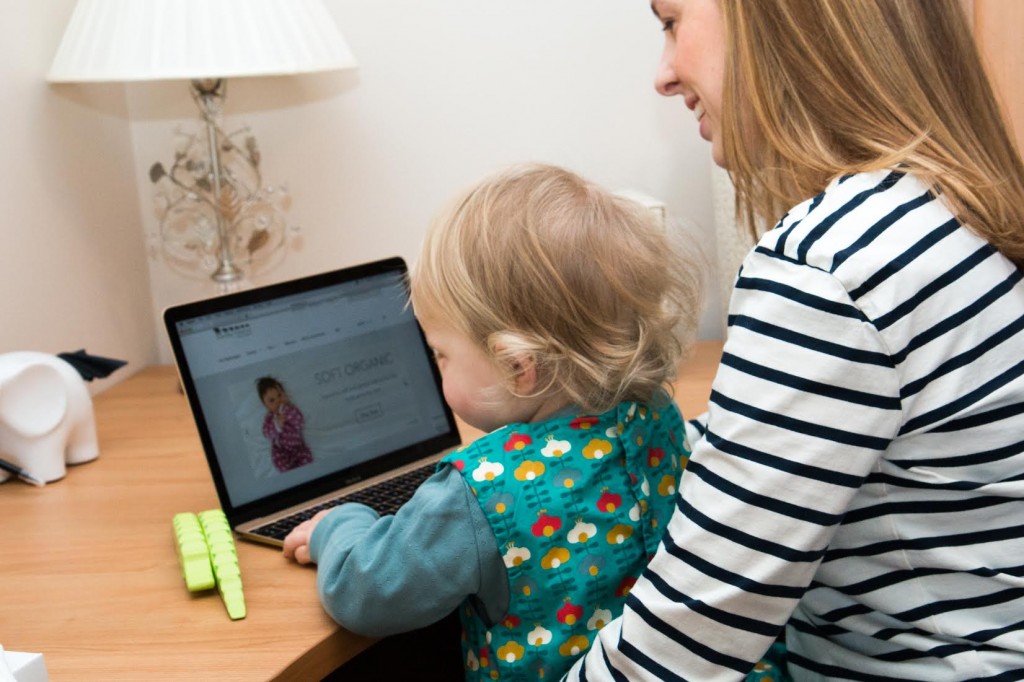 Photographs by Rachel of RJM Photography.
Name of interviewee: Jo Lennon
Business name: Mellie Green
Website: www.melliegreen.com
Facebook: www.facebook.com/melliegreenorganic
Twitter: twitter.com/mellie_green
Business type: Organic clothing and items for infants
Location: Stakeford, Northumberland