Hi Liz, can you tell us about yourself and what inspired you to set up your business?
I worked as a reporter on local newspapers across the North East for 10 years, most recently at The Chronicle, The Journal and Sunday Sun. I loved writing, discovering untold stories and meeting interesting and often amazing people. It is a job that shows you so many different aspects of life, from the worst to the very best.
But with a young family, the long hours, weekend shifts (and childcare bills) led me to start looking for more flexible ways of working. It made more sense to me to be able to spend more time with my children during the day and then catch-up on work in the evening, once they were in bed.
I also found that many organisations and businesses would feature quite regularly in the news, not necessarily because they were more interesting than everyone else, but simply because they were better at telling everyone about it. I approached a few potential clients who I thought were doing fantastic things, but were rarely in the news and asked if they needed anyone to write their press releases. Thanks to superfast broadband, a smartphone and a laptop, I didn't need to be based in an office, I could just work from home and the business then grew from there.
The term PR was always known as the "dark side" in the newsroom, but it's similar to journalism in many ways: you help people and organisations to spot their best angles and put into words the great things they are doing. It's a good feeling when you help them get the recognition they deserve.
What tips would you give other women who are thinking about setting up their own business?
Do it! At first, I still had to work long and often unsociable hours as I fit in interviews and writing around school nursery sessions. But when you are doing something you love it doesn't seem to matter. I have also learned so much more about myself through being self-employed. It can be easy to get stuck in the same old habits at work, but when you start your own business it leads to new opportunities and you really push yourself.
On a more practical note, I would say get out and network in person. I was very nervous the first time I went to a network meeting, but everyone was so friendly. I find it of most benefit for getting ideas and inspiration, as most people are self-employed and in the same boat as you, so happy to share words of wisdom – just remember to try and give something back too.
Finally, think big. Digital means businesses are less confined by location than in the past. The North East suffers from poor transport links and lack of investment compared to the rest of the country. But now, by making the most of digital developments, such as social media and apps like google hangouts, you can export what you do to the world.
We've seen some of the very special campaigns that you work with via articles shared on social media and love your way with words – what are the benefits of the internet for your business?
For me, it's people that make the best stories, and that hasn't really changed with the arrival of the internet. Even viral videos like the recent puddle in Newcastle, are ultimately about people and how we react to different situations. But the internet has had a massive impact on how stories are shared.
When I started as a reporter, there were few ways of finding out about what was happening in your area, other than in the local media. But now, while I still believe traditional print and broadcast media carry editorial clout, there are so many opportunities for businesses and organisations to tell their own stories, make their own news and share it with a global audience.
What are your future plans for Noted PR and Media?
As both my children are now at school, I am working full-time in the business, along with fellow former journalist Kerry Wood. Kerry and I first started meeting-up for a vital dose of caffeine and cake while on maternity leave with our eldest daughters Charlotte and Georgia seven years ago. We then job-shared when we returned to work part-time, before we both decided it was time to branch out into freelance life.
The clients we work with range from a multi-million-pound engineering firm, to schools, start-ups, charities and health organisations. I love the diversity of my work and our plans are to continue to help raise the profile of our current clients, whilst also creating new opportunities for growth by taking on new clients both in the North East and beyond.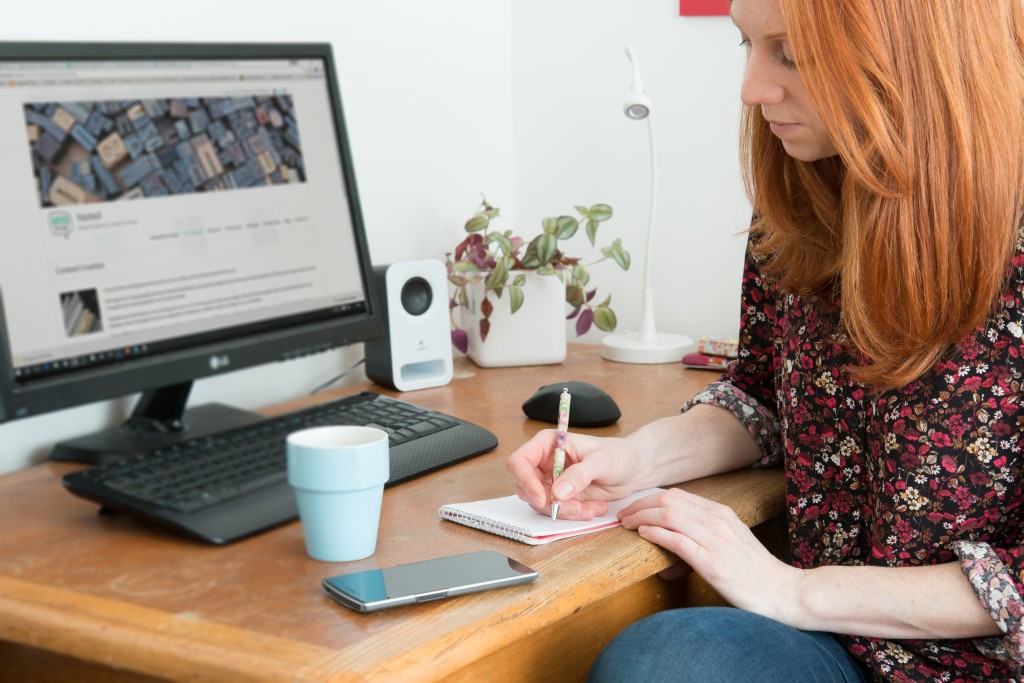 Photographs by Rachel of RJM Photography.
Name of interviewee: Liz Walker
Business name: Noted PR & Media
Website: notedpr.co.uk
Facebook: www.facebook.com/notedpr
Twitter:  twitter.com/notedpr
Business type: Public Relations & Creative Content
Location: Morpeth, Northumberland