Hi Katharine, can you tell us about yourself and what inspired you to set up your business?
I'm Katharine Paterson, Founder and Director of So To Company Ltd and mum of six year old Evie, the sole reason behind my business! I was inspired to set up my business when Evie was a tiny baby. I'd been given a second hand traditional wooden barred cot which had been well looked after and was solid, but I was alarmed to regularly find Evie with her arms and limbs stuck through the cot bars, or bumping herself on the solid cot sides. I got to the point where I realised I was more comfortable, and in fact she was, putting her to sleep in a travel cot which was made of mesh and was soft-sided. My Eureka moment came when I purchased cot bumpers to protect her head and limbs when she was about six months old, thinking that they would resolve the problem. However, on reading the small print it advised that they were not to be used from when your baby could sit unaided (ie six months) as they could be a potential suffocation hazard. So, in effect by reducing one potential hazard I was in danger of creating another. Further research revealed that injury was not a unique experience, some children sadly even die because of their cots and cot bumpers.
So the solution is a completely new cotbed concept, karekot, which systematically addresses the problems that I faced with Evie and which are known to cause injury and even fatalities to babies and toddlers. Karekot converts from a crib, to a cot to a toddler bed; there are no cotbars as these have been replaced by soft, breathable, washable mesh; there is a unique drop side; and karekot is deeper than a traditional cot, making it harder for little ones to climb out. In addition, there is no need to buy cot bumpers or a bedguard, thereby reducing hazards and saving the pennies!
Karekot is now in the final stages of design, it is UK patented, patent accepted in Europe and patent pending in the USA. I have a major high street retailer interested in retailing karekot, as well as lots of positive accolades from parents who have experienced the same things as me, and parents to be. I'm currently seeking further finance to get karekot onto the market.
What tips would you give other women who are thinking about setting up their own business?
It's got to be GO FOR IT!! If you have a passion, see a niche, see a problem that needs solving then follow your intuition. I should say that I am not trained as a designer, nor do I see myself as someone who is particularly creative, I just saw a massive problem with traditional wooden barred cots, which I could not believe had not been addressed before, and I went for it! It still amazes me to this day that I did, but I have absolutely no regrets!
I have to say that if you already have experience in your chosen business then that would make things so much easier. For me it has been a hard slog- it's taken me six years to develop karekot and we are still finalising the design. Having no experience of product design, the nursery sector, intellectual property protection, securing finance and then running a business was, and still is, a massive learning curve. I was fortunate to encounter lots of more experienced people who proffered lots of advice. However, whilst well-meaning, this was often contradictory and forced me to better tune into my intuition. In addition, it's true to say that women are still the main carers for their children and I was no exception, finding myself juggling paid employment (enabling me to keep a roof over our heads) with being, in effect, a single mum (my husband works away) and finding that the only time I had for me and my new business venture was post 9 pm. Being someone who needs their sleep, (and I do need my sleep!) this creates a massive frustration for me of lack of time and money! However the excitement I feel around karekot and the really positive feedback I get from nursery experts, parents and parents to be, ensures that I keep on going and have learnt to thrive on little sleep!
We are inspired by your solution focussed product design and wish you very well with your business – what are the benefits of the internet for your business?
The internet is a powerful, enabling and yet often bewildering tool. For karekot, promotion and sales via the internet presents huge opportunities. Babies are born all over the world so, in theory, this potential global market for karekot is made so much easier by the ready access a great, interactive website can provide. My research has shown that 'parents to be' do a lot of their initial research on line, sizing up the options, prices and features of various products before deciding on which one they might purchase. As a cot is such an important part of the essential goods needed when a new baby comes along, it is often the case that a visit to see and feel a cot in store is undertaken so that the buyers can discuss with well-informed shop assistants and they can test out the cot's features and attributes before making that final purchasing decision. In addition, the power of mum's forums like Mumsnet and Netmums cannot be underestimated! Ratings of products, advice on product features, discussions on the 'do's and don'ts of bringing up babies' etc on such online networks are incredibly influential and provide a direct seller to potential consumer experience which, hitherto, was just not possible. The internet makes the potential of global sales much more attainable, and for karekot this means that babies all over the world will be able to sleep more safely and soundly.
What are your future plans for So To Company Ltd?
I have huge plans for So To Company Ltd and karekot. The business is based around my experience and my story with Evie and I am keen to play a full role in the company going forward and continuing to learn as I go. As well as the UK, I'm focusing on the Northern European and US markets for sales as this is where I see the most potential, in particular in the US where they banned drop-sided cots in 2011 because of the number of baby and child deaths that had been attributed to them. I need to source a cost effective manufacturer – it would be fabulous if this could be in Northumberland but at the moment this may not be possible. I am so excited about the potential of karekot and just can't wait for sales to start – I just need to secure that investment before they do!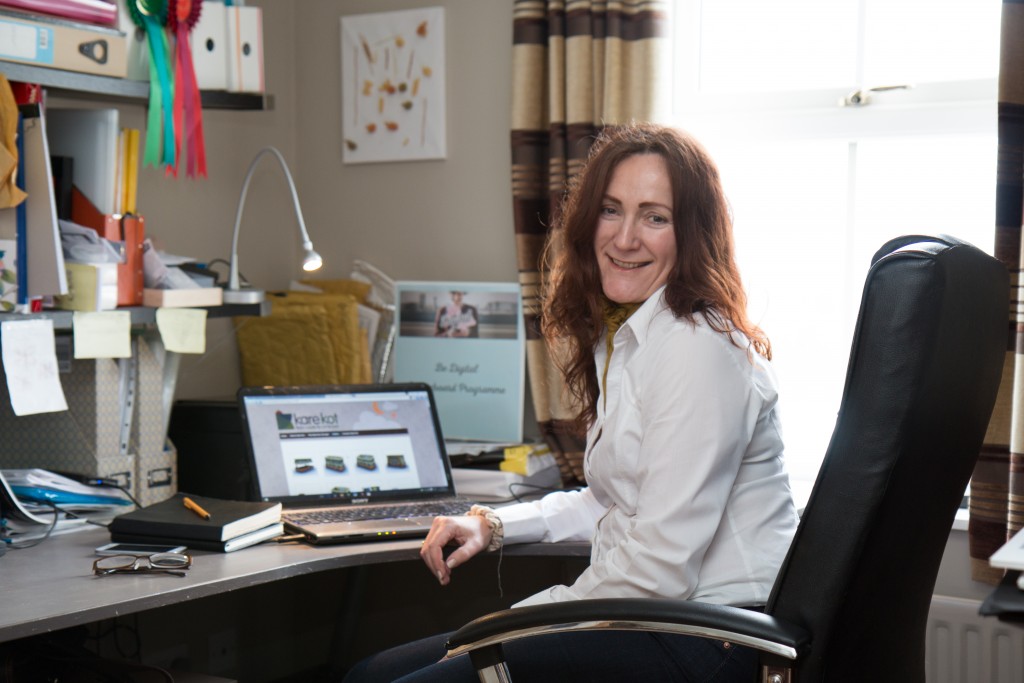 Photographs by Rachel of RJM Photography.
Name of interviewee: Katharine Paterson
Business name: So To Company Ltd
Website:  www.karekot.com
Twitter:  twitter.com/Kare_Kot
Business type: From Cradle to Cot To Bed
Location: Capheaton, Northumberland

Video by MC-Media