Springboard Programme
Having been in touch with all applicants on Friday to let them know the results of the Be Digital Springboard Programme application scoring process, which was a very tough task as we had an amazing response with over 40 great applications from so many varied and inspiring women in business in Northumberland, we are delighted to formally announce the 20 women and their businesses who succeeded in securing a place on our fully funded Springboard Programme! Many congrats ladies, and many thanks indeed to all who applied!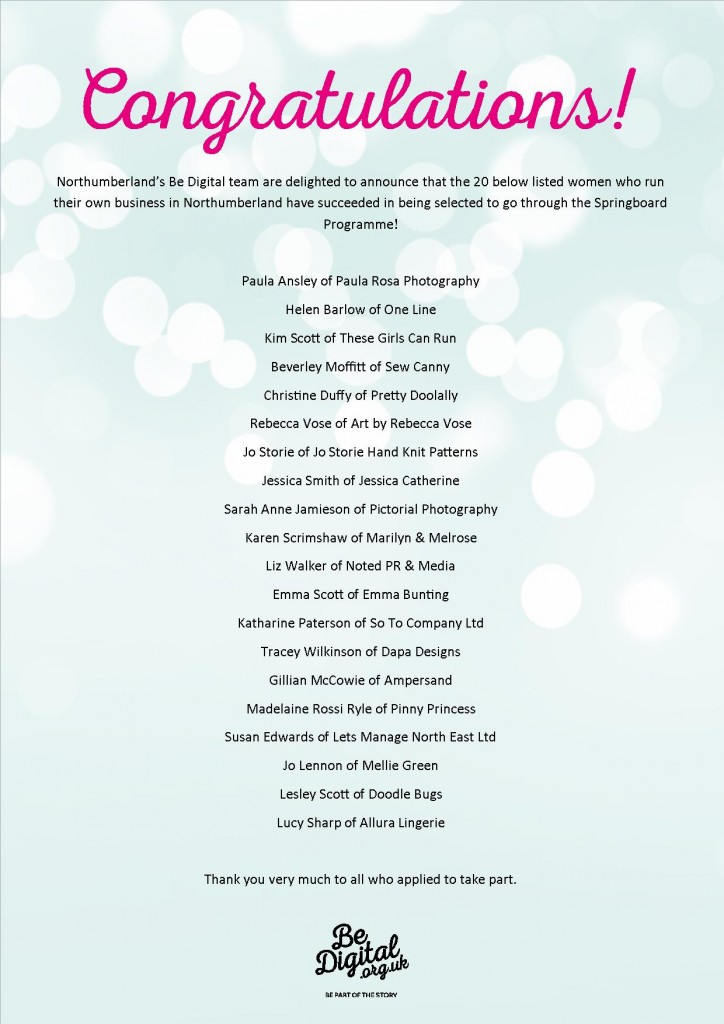 About Northumberland's Be Digital Springboard Programme
Northumberland's fully funded Be Digital Springboard Programme is an innovative, exciting and intensive business support programme for 20 women who run their own business in Northumberland*.
Due to the small number of businesses that the programme can support, participation will be by application (please note that the application process is now closed and the 20 participating businesses have been selected).
The Springboard Programme will start late-October 2015 and finish with a closing event at the end of March 2016.
The programme will include:
Mentoring – once a month, each participant will be invited to join their dedicated mentor for a 2-hour session focussed on guidance and support.
Masterclasses – twice a month there will be day long interactive workshops for all participants covering a range of topics – each workshop will be approximately 6 hours intensive training excluding breaks, so, as a guide masterclass days will be from 9.30am to 4.30pm.
Meet Ups – once a month there will be a get together for all 20 women involved in the programme to provide a platform for collaboration and group learning, including guest speakers, top up coaching and sharing of digital tools and tactics.  Meet up days will also be day long, but the afternoons will be informal catch up time, so as a guide the days will start at 9.30am and last until about 4.30pm, but we know people are busy juggling many things like school runs, so if you need to leave early after about 2pm then we understand.
Mastermind – once a month all participants will be invited to join an online meeting via Google+ Hangouts, so the group can catch up with one another and have a group question and answer session.  These sessions will be recorded and shared via the Be Digital website.
The programme will be delivered by Pascal Fintoni, Norma Foster and Leon Howe all of whom have extensive experience of delivering business support (find out more about Pascal, Norma and Leon by clicking here).
The programme will be bespoke to meet participants' business needs, but they can expect activity areas to range from making the most of social media, to film making, to developing their digital marketing and business growth plans and strategies.  It'll be an exciting and varied programme delivered by experts in their fields to a small, collaborative group of like minded female entrepreneurs – the programme will be challenging, rewarding and lots of fun!
In addition to the support participants will get from Pascal, Norma and Leon, they will also be supported and accompanied along their journey by the Be Digital team at Northumberland County Council, Fay Cooper and Anita Nicholson – plus lots more people besides!
* Our Be Digital Women and Broadband Challenge funders, Government Equalities Office (GEO), stipulate that the funding be used to support women to grow their own businesses by undergoing a training and support programme to help them maximise the opportunities that access to super-fast broadband and digital technologies presents.  Northumberland County Council has been awarded GEO funding to support women who run their own businesses in Northumberland.  The Springboard Programme, Sure Start Programme and Be Digital Website are therefore for the benefit of women who run their own businesses or who are returning to work or considering starting their own business in Northumberland.